UNISON's Jane Carolan, speaking at today's
Institute of Employment Rights Conference
 outlined the history of the union's position on the EU and the referendum debate ahead. This is the full text of her speech:-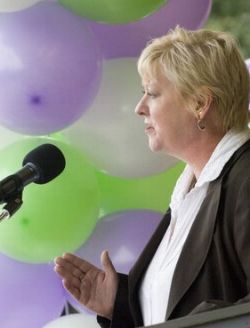 'What happened in Greece was not 
an aberration from EU policies but a 
logical consequence of them.' 
Jane Carolan
"UNISON has no policy from NDC (National Conference) on the issue of leaving the EU. That may surprise some who have seen our regular opposition to policies on the European Union proposed through TUC Congress but there is no contradiction here. Quite simply UNISON's democratically agreed policies have consistently been ultra-critical of the EU institutions practices and policies BUT not one of the motions that we have passed has actually gone on to propose that as a result the union should commit itself to backing an EU withdrawal.
This goes back to the first national delegate conference of the union. When Nalgo, NUPE and Cohse came together to form UNISON the Nalgo left could see from the proposed rule book that the new union was to be pro public service, anti-privatisation.
However there were a number of policies that had been hard fought for in the old Nalgo that needed to be reiterated in the new union. One was Palestine, where support for the self determination of the Palestinian People had been initially narrowly won in the 80s. A second was opposition to Trident replacement and a commitment defence diversification that remains UNISON policy to this day.
What can I say other than plus ca change…
And the final one was opposition to the Maastricht Treaty.